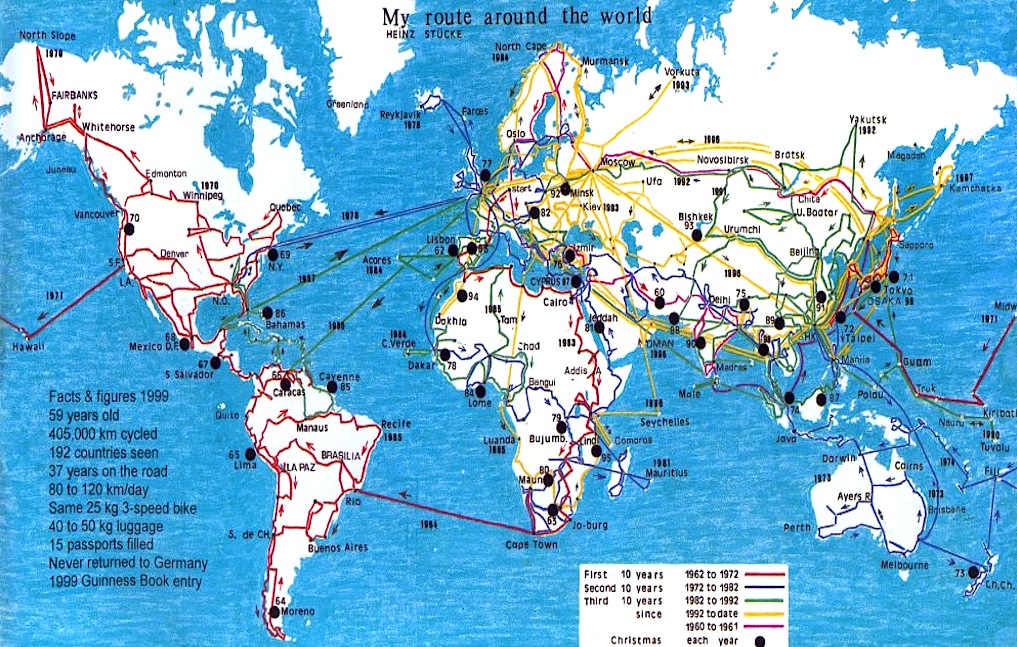 For near on half a century, Heinz Stücke has been cycling the globe, inch by inch, mile by mile. The total distance covered is now somewhere in the vicinity of 600,000 kilometers, enough to circumnavigate the earth over ten times. Having recently turned 70, there's still no end in site to his journey. Heinz was last seen cycling through Canada and Alaska in 2010, looking as strong as ever. Over the years he's been arrested, shot at, and robbed but still continues on with an insatiable thirst for the unknown. It is an understatement to suggest that Heinz has lived and extraordinary life, tirelessly pedaling his way through every country on earth.
The more you read about this incredible individual, the more you sit and ponder with disbelief, at just how much he has achieved in his life. Break his travels into segments, and there are many that have made similar journeys. String them all together over a single mans lifetime, and you have one very unique individual, on what I personally consider to be one of the most amazing, and fascinating journeys of modern times.
There are no frills with Heinz, he's the ultimate real deal. No vans trailing behind him, with a team of sponsors and buckets of money to throw around. No high tech, super light weight, space-age alloys either. He's done all but his most recent journeys on his trusty 3 speed, steel framed bike, that weighs in at 25 kilos. Pedaling a 3 speed with 40kg of luggage for thousands upon thousands of miles is an amazing feat in itself, but Heinz has also pedaled through the deserts of Africa, Australia and Asia. As well as over the high mountain passes in both India and Nepal. Although he does admit to pushing his way up many of the steepest hill's (do you blame him).
His first cycling journey was made at the age of 18 in 1958, but it wasn't until Heinz turned 20 that he really gained a taste for overland cycling. Setting off from his hometown of Hövelhof Germany, where he cycled some 17,000km's through 20 countries before returning home. Although It wouldn't be long before Heinz would leave Hövelhof again, this time on an endless sojourn of monumental proportions. Between 1962 and 2010 he's cycled more than 593,000 kilometers and visited some of the most amazing places on earth, whilst consuming 20 passports along the way.
On his travel days, Heinz will cycle approximately 80-120km per day, but it's not just the cycling of great distances that I admire. It's the ability to endure such long and lonely times on whilst cycling alone for so many years. To my knowledge, he has never returned home during his 50 years on the road. Heinz also has an interesting motto that sits just below the German flag on the rear of his bike that sums up the mans personality, and philosophy of life perfectly. It reads 'Be Carefree – Be Mad – Be a little bit bad. It's the unknown around the corner that turns my wheel'.
During his travels Heinz has captured more than 100,000 images in some of the most far reaching and interesting places on earth. He funds his future travels by selling postcards of these images, which he personally signs, as well as booklets with a highly shortened version of his life story. In the end father time will catch up with all of us, but Heinz has repeatedly said that he will stop when he's dead. In the meantime, if you happen to chance upon Heinz make sure you stop and say hello, and purchase one of his postcards so he can continue to inspire us all with his amazing feat of both physical and no doubt emotional endurance. The man who wanted to see it all! – Heinz Stücke, a modern day travel legend!
Heinz's official website can be found here.
A shortened version of his life adventures can be found here on the Bike China website.