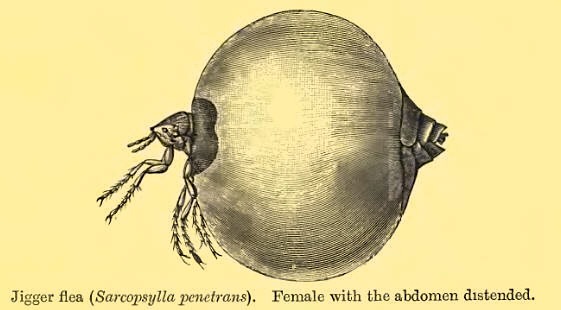 Whilst sitting on a plane after leaving Madagascar on our most recent trip, I felt a sore spot on one of my fingers. A small raised white lump had appeared, with a tiny black dot directly in the middle. I gave it a bit of a squeeze, and it was at this point I realised what it was. So I picked, scratched and squeezed a little more, until eventually out it popped, a bloody Jigger! These little parasites live in soil and sand, and like nothing more than burrowing head first into the skin of warm blooded hosts. They are found in many parts or Latin America, as well as Asia, but it is Africa where they are doing the most damage.
The Jigger (a Chigoe flea to the educated, or a Tunga Penetrans to those who are that way inclined) starts out quite small, with an adult female measuring only about 1mm in length, but it grows and grows as it continues to feed, with its abdomen filling with eggs. The abdomen of the flea ends up approximatly 5-10mm in width (the size of a small pea). At which point it begins to drop the eggs onto the ground through the small orifice (black dot as described above). These eggs will then hatch, and the cycle starts all over again.
After landing in Reunion Island we went back to our hotel, and I began the search on my feet. The hands are a rare place to have a jigger burrow in, and they are more common in the feet or lower limbs. After all my searching, to my delight I only found one more Madagascan stow away, on the bottom of one of my toe's. I grabbed a pin and pricked the little bugger out. This one was a little more mature, and left a decent open wound on the bottom of my toe.
It's been many years since my body has played host to these little parasites, with my last encounter in the Democratic Republic of Congo, way back in 1994. On this occasion, my feet were littered with them, and it took me many painful days to remove them.
For those people who've had the pleasure of picking these little monsters out of there bodies, they will know it's not to much fun. Depending on their size, they can be quite painful, and the small open wounds left by the exiting flea can become infected and ulcerated, if you're not careful. This is especially so on the soles of your feet.
After returning home, I began to do a little research on the Chigoe Flea, and it seems these little monsters have been causing quite a bit of damage to people lives in many parts of the world, but especially in sub-saharan Africa. There are many villages that have been completely infested with them, and mass infections have rendered people unable to walk, and in more serious cases people are dying from these little monsters.
A recent article in the Washington Post pointed out the missery that the Chigoe Flea is causing to the people of Uganda, with 20 dead and 20,000 seriously infected. There is also a great web page run by Ahadi Kenya Trust, that has all sorts of details on the Jigger and how you can help by donating to there program to eradicate Jiggers in Kenya.
[Update] – A new online charity organisation called 'See The Difference' has a program that you can donate to. They state that for 1 Pound you can remove the Jiggers from a childs feet. You can donate here.
This short youtube video, show's just how menacing the Jigger can be, and the pain that many African families are suffering, due to the Chigoe Flea.