This weeks image was captured during 2007 in China's commercial and financial capital of Shanghai. The image shows the pedestrian shopping mall of Nanjing Road, during a passing rain shower. In the blink of an eye, there's an umbrella salesman on every corner, making a quick yuan on the sale of their goods. I didn't mind the Nanjing Road district, but the other non discrete shopping centers I could do without.
If the requirement of obtaining super power status is measured by the total space allotted to a countries shopping malls, then China is no longer emerging and has already arrived. Shanghai  has a vast number of shopping malls, and Beijing has three  of the top tens worlds largest (with the worlds largest being the South China Mall built in 2005 in Dongguan China has over 1500 individual shops). It appears that many of the countries historic buildings are making way for these monstrosities. China is changing rapidly, into what I'm not quite sure yet?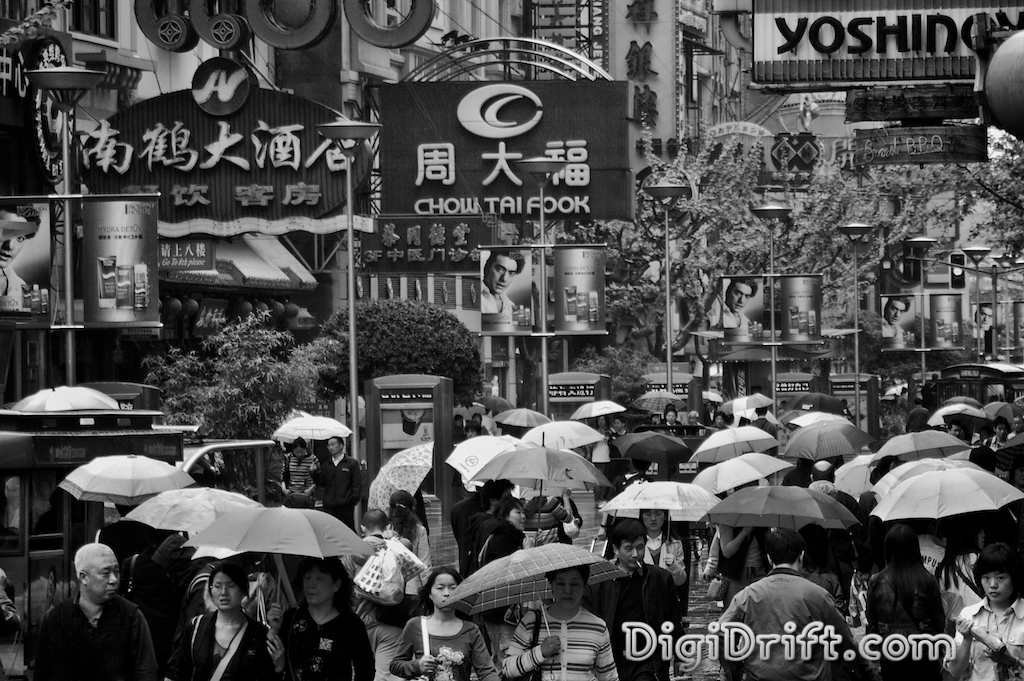 All photos in the 'Image of The Week' series are protected under the 'Creative Commons' licence as detailed below. You are free to copy and distribute this reduced quality image as you wish, as long as the image itself is used for non commercial use, remains unaltered, and with a link back to this site.
I am by no means a professional photographer, but I believe some of my images are worthy of sale. Traveling the world is an expensive hobby, so If you would like to purchase this image then please click the corresponding tab above, and you will be presented with a series of options through the 'FotoMoto' service. The image displayed above, is a reduced and highly compressed JPEG. All licensed images made available for download, are supplied in full high resolution TIFF format. All prints are also created from these full resolution images, without watermarks.
DigiDrift – This Image by Jason Webb is licensed under a Creative Commons Attribution-NonCommercial-NoDerivs 3.0 Unported License
Shanghai's Nanjing Road Shopping District Can Be Found Here