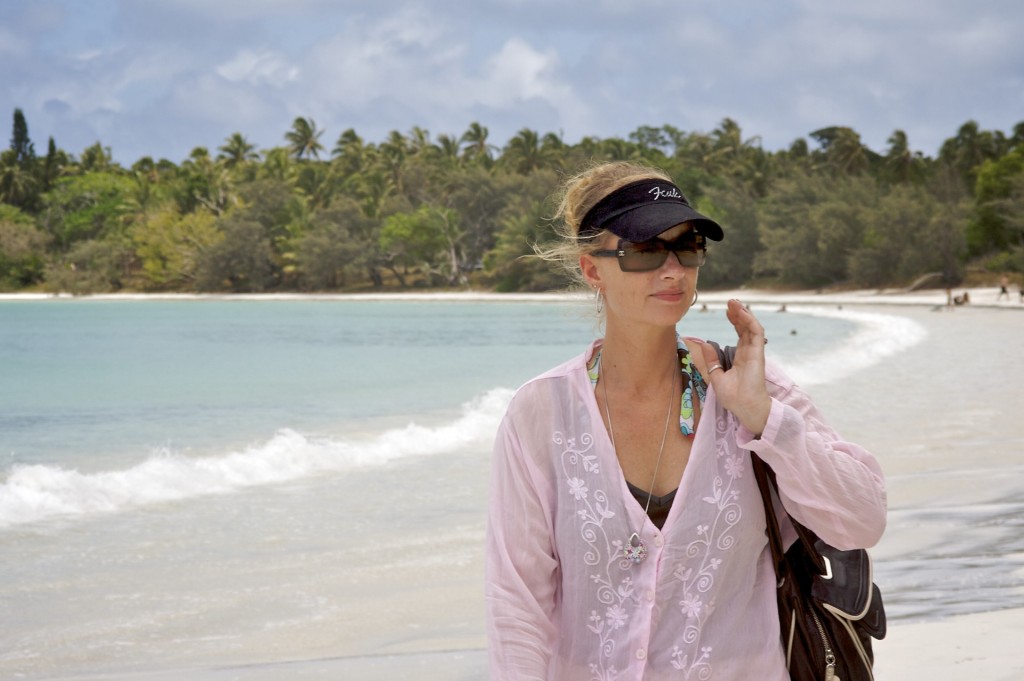 Well once again, the Christmas/New Year period was getting closer and we were looking for somewhere different to go.  As it was nice and close and we discussed visiting there whilst in Vanuatu the year before,  I suggested New Caledonia. As cash was a bit tight we decided to use our frequent flyer points, and further review of the Qantas website informed us that for a few more points, we could make the trip in business class (our first time, and I don't think Liza wants to fly cattle class ever again). The only trick was, that to enable us to get these flights we had to stay three weeks. We spent the first 5 days in Noumea, just winding down and relaxing in our Hotel. Noumea is a nice place, by no means the prettiest place on earth, but there are some pockets of this town that have a nice feel to them like the area around the marina, and the beach side suburbs of 'Anse Vata' and 'Baise des Citrons'. These two area's are lined with cafe', restaurants and hotels and we made our way to a different place every night to eat. Like anywhere you visit, the longer you spend the more comfortable you feel being there and after a long year at work, we both enjoyed the first 5 or 6 days just relaxing.
After what was a very quite New Year's eve, we decided to make our way over to the Isle of Pines , a short 2 hour journey via a small ferry service that runs a few times a week from Noumea. As Liza had done a bit of research before we left, she found out that tourist infrastructure in New Caledonia would be fairly minimal, and bringing a tent along would be a good idea. We didn't book any accommodation (not that there is much on the island anyway) and thought that we would just stay at one of the many camp sites around Kuto (where the ferry docked).
This was our first mistake for this trip, as we arrived on what was one of the most busiest weekends of the year. After docking, we got a lift from the port by one of the many camp site taxi's to his particular camp site. He said there was room at the site, but when we pulled up we were turned around due to not having a booking. It seems that all the camp site's on the island were booked out and the next drama we would face was that there are basically no restaurant's on the island as everyone eats in there campsite or gite in a group with all meals pre-ordered that afternoon. Well, after walking several kilometers pulling our luggage along the roadside (no backpacks, on this trip) trying every place marked in our guide book and many others that were sign posted along the way, we managed to find a lady that would take us in and we could pitch a tent in her backyard. It was quite amusing where we had out tent. Under a large tree for shade, but surrounded by an old wrecked car and various spares and bit and pieces. At least we had a roof over our head….
The 'Isle des Pins' was a very scenic place and extremely photogenic. The pure white sand beaches, turquoise blue lagoons and of course the pine tree's made the island that of picture postcard stuff. After a couple of nights at the 'Hotel des Junkyard', we made our way back to Noumea to begin our circumnavigation of the main island (Grande Terre) with our hire car that we booked before we left on the ferry two days previous. Without a shadow of a doubt, 80% of all vehicles on New Caledonia are of the hatchback variety,and we picked up a little Honda hatchback that would be our companion for the next two weeks. Once again Liza took the honors of driving, whilst I navigated. The plan was to be mostly self sufficient, so we had the option of just staying where we felt. We crawled the city centre of Noumea for supplies, and bought some camp beds, and esky (a cooler to those not from Australia), an assortment of food and our trusty 2 person dome tent that we bought with us from home.
The toughest thing about driving in any foreign country is getting your way out of the major cities, and with Noumea's population a mere 100,000 this should have been easy, but thanks to the many one way streets we ended up backtracking a few times before we could begin our journey north. Before we left home Liza picked up a road map of the country that would prove to be of great value to us and $20 well spent as it was better than any other map available in the country (or what we could find anyway). After a bit of research, the plan was to head quickly up the west coast with a couple of nights spent at the Poe Beach campsite and then make our way to the northern tip of the island. Poe was a nice introduction to camping in New Caledonia, with its large camp ground and couch grass camp sites the couple of nights we spent here were great and with out tent pitched right on the edge of the sand and the lagoon only meters ways (New Caledonia's lagoon is World Heritage listed and the largest in the world). The trip up the west coast was in many ways bizarre, as parts of the north west of the island looked exactly like Australia, and was in no way what I pictured New Caledonia to be like. The vegetation was similar and the red earth made you feel like you were in outback Australia. The road map that Liza purchased was huge and had every little village named on it, so it gave us a false sense of scale as we are generally used to looking at maps of much larger countries of even whole continents. We arrived at the northern most tip by late afternoon and took in the view of what is know as 'Boat Pass', a small channel of water between the northern most point of New Caledonia and some small islands just a few kilometres of shore. After leaving Boat Pass we began to make our way south along some small dirt tracks where we arrived at our next campsite in the village of 'Poingam'.
Poingam was another beautiful spot and we spent another couple of days here relaxing. It was kind of nice not having anything to do but prepare you meal's each day (well not to much preparation as we basically lived on Baguette's for lunch and dinner everyday) and being in bed some nights by 7.30pm as it was pitch black. As well as looking forward to our nightly vodka, lime and soda, I also looked forward to our hot tea and coffee in the morning. Liza, had another great idea of buying a cheap electric kettle instead of buying a gas cooker, and as it turned out there was only one campsite that had no power available to use. After Poingam we headed south, down the east coast. The contrast between the east and west coast's in terms of scenery is massive.
The west coast is dry and arid, and the east coast is wet and lush with the two area's no more than 80km apart and a small mountain range separating them.
As written in many guide books and tourist brochures, the journey south was very scenic. One special memory was the crossing of the Ouaieme river by ferry (well ferry is being generous as it is more or less a barge with a small outboard motor). The ferryman stops at either side of the river and swaps the propeller blades from one end to the other and then he makes its way back across, 24hrs a day. Grande Terre was dotted with these ferry's at almost every river many years ago, but the Ouaieme ferry is the last remaining as the river mouths are all now spanned by bridges. After the river crossing we came to the small picturesque town of Hienghene, a touristy spot for foreigners and locals alike. It is this region of the Grande Terre that the Kanak culture is most prominent. The Kanak's are quite a friendly lot and at times it was getting difficult for Liza to concentrate on the road whilst waving at every single person along the way. The Hienghene area is a must see if you make it to New Caledonia. The steep rock formations, dotted along the coastline and a lush mountain backdrop make this area an essential visit for a couple of days. We found another campsite on the beach, this time the site was run by a local scuba diving operator. We set up camp for the night, and before dusk we headed for a walk along the beach, wading our way through small streams and also took some shortcuts through the forest to eventually make our way to the Linderalique rock formation, one of New Caledonia's most famous landmarks (it features on their 500 Franc bank note and locally it is know as the 'Billet 500′ rock).
On our journey south from Hienghene, we decided that we would try and head for the beach campsites at Canala or Thio. On the map they appear to be a long drive, but once again, due to the scale of the map we were actually only half a days drive away. There was one part of this drive that was extremely interesting and that was the navigating of the 'One Way Road' that stretches a mere 13km from Canala to Thio. This small gravel route winds it way up and over a small mountain pass, and it is only permitted to drive one way on this stretch of road due to its danger (especially in the wet).
One way roads are are not unusual, but the rules of this road had a slight twist to them.
The road is one way heading south from Canala, between the even hours of 6am to 6pm leaving on the odd hours heading north between 5am to 5pm from the Thio side (oh yeah, and all other hours of the night the road takes traffic from both directions and is basically enter at own risk) leaving on the even hours. You have approximately 40 minutes to make the crossing as it is forbidden to make the crossing after 20 past the hour. Liza manoeuvred her way along the switchbacks and we stopped a couple of times along the way to take a some photo's. As we made our way through the most dangerous section, we made comment to each other that it would be quite treacherous to make this journey in the wet (we were lucky, as it rained quite heavy for the next few days) especially in a small hatchback car that was not designed to be treated in this way.
Thio was smaller than we imagined and we made our way to our next campsite for the night. The town was a sleepy hollow with not allot going on. We picked up some supplies and headed to the Gite Ouroune only a few kilometres out of town. We made camp for the night in a small spot all by our selves. Dusk was almost upon us and we once again pitched our tent on the lovely couch grass. There was absolutely no one at this campsite except for us and three dogs. We actually had to go to the house of the caretaker who looks after the site to make sure it was OK to camp for the night. We made dinner (baguette's again) and I went for a short walk along the beach before the sun set. After Thio we were trying to work out what to do next, we had the car for another few days and had already spent nearly a week in Noumea. Although we thoroughly enjoyed Noumea, we wanted to just relax a little more rather than go back into town for another 5 days.
We decided to head to the far south of the Island to spend a couple more days before heading back to Noumea to fly home. The far south was an atractive place, but not what you would expect on a tropical island in the Southern Pacific. The area again reminded us of the Australian outback, with its dark red earth. The earth is red due to its mineral composition of iron and nickel, and the area had some very large mines that must provide a massive source of income for the local government (or maybe it all goes back to France?). This region of Grand Terre is sparsely populated and has many national parks and reserves. If you have alot of time here, there are many inland and costal bush-walks that you can undertake, but we just wanted to relax a little further so we made our way to Gite St Gabriel to camp for the last couple of days before heading back to Noumea. This Gite was the best we had stayed at for the whole trip and we had saved the best for last. The site was surrounded by a small sandy bay and once again the campsite was nestled in between the coconut palms. Although the weather had turned a little and we were getting patches of rain through out the day, it was still a great place to spend the last few days before having to go home.
Once we got back to Noumea, we had enough of roughing it, and needed some 5 star comfort, so Lyz got us a great deal at the Meridian Hotel for the last 2 nights before heading home. For those wanting something a little different than your typical package holiday to a south pacific destination, then New Caledonia is a place that has enough attractions to fill in a two to three week vacation, and with a bit of effort you can easily see the whole of Grande Terre in a two week period. After the trip it was apparent to us that if you want to see the whole of New Caledonia then you are going to need a tent, or at least you will need to pre-plan your accommodation in Gite's well in advance as there are not many of these available through out the country. We thoroughly enjoyed our time here, and would like to come back again to explore what the Loyalty Islands have to offer.